As the fashion director and chief executive at London's Tank Magazine, and one of the creators and publishers of the digital-turned-print style platform Because, Caroline Issa has her finger on fashion's pulse—and the street style clout to prove it. But unlike the performance-based peacocking that typically earns aspiring fashionistas star status, the half Chinese, quarter Lebanese, and quarter Iranian Issa rarely follows fleeting trends. Instead, she sticks to a successful recipe of time-honored pieces, fine tailoring—and a reliable slick of red lipstick.
Raised in Montreal, Issa moonlighted as a model on the runways of Milan when she was 17 before doing a total 180 and enrolling at University of Pennsylvania's prestigious Wharton School. She pursued a career in management consulting—first in San Francisco, then in Singapore, and eventually in London before a chance encounter with Tank founder Masoud Golsorkhi lured her back to the fashion industry. She never lost her sharp sartorial instincts, though, or her eye for quality. "The first suit I got was for my interview at Penn," she laughs. "I loved tailoring then, and it has remained an easy staple for me," says the 37-year-old who has always retained a passion for suiting, cashmere, and simple, structured silhouettes.
The power of red is that it transforms you—you put it on and you stand a little bit taller.
"I do still like to have fun with fashion and mix it up a little," Issa admits of working "fun, key bits"—like an unexpected print, or a pop of bright color—into her wardrobe of essentials, which is likely what compelled Nordstrom to approach the effortlessly chic-poster girl to design the latest offering from its Signature line. The collaboration, which aims to hone in on Issa's unique sensibility, debuted this Spring and will include four collections a year. Here, we asked the business-savvy stunner to narrow down her top five fashion and beauty picks for achieving the "classic, with a twist" style that has become her calling card.
Wielding the perfect cat-eye is every woman's Mecca.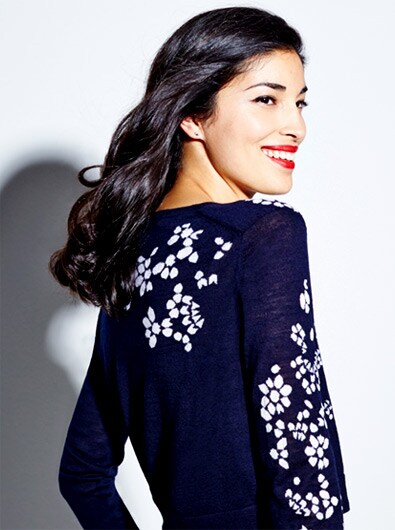 1. The Double-Breasted Pantsuit
"This is really important as a key piece. A suit is one of those day-to-night outfits where you can wear it for work and it's equally appropriate if you're meeting your bank manager, or the PR for a fashion house, but then if you add a pair of chandelier earrings it can take you just as easily into night. I really value those wardrobe pieces that work hard for you."
2. The Red Lipstick
"I have more red lipsticks than could last a lifetime and I keep buying more! I think it's fun to use lips as your experiment area, and I often play within that color spectrum—so I wear subtler washes; matte finishes; high-shine glosses; and long-lasting finishes. The power of red is that it transforms you—you put it on and you stand a little bit taller. To keep my red more defined, I actually apply a lip pencil after I've already applied lipstick!"
3. The Leather Biker Jacket
"I'm addicted to biker jackets. They're very versatile and you can wear them just as easily with a pair of jeans and a t-shirt, as a dress. They instantly toughen up your look and make it more modern. I also love the masculine-feminine balance they create."
4. The Liquid Liner
"Wielding the perfect cat-eye is every woman's Mecca; if it worked for Audrey Hepburn it can work for us! I prefer to use a liquid liner typically because it gives you the right amount of point and the ability to experiment with different flicks."
5. The A-Line Skirt
"This is a flattering look for pretty much everyone—in leather, suede, or cotton. The length should hit just above the knee and I love to wear my A-line skirts with a longer shirt that is belted, or tucked in to give the illusion of a waist."