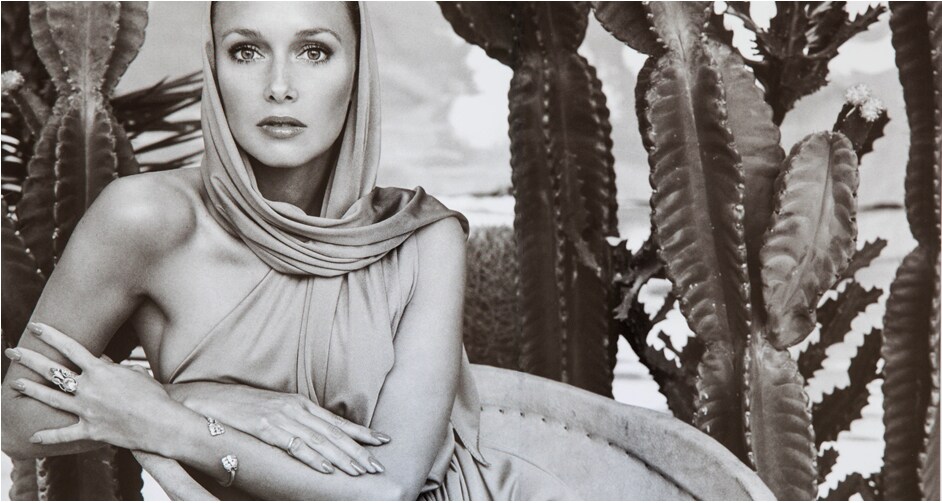 Despite a career that spans six decades, Victor Skrebneski has rarely published pictures of himself with his subjects. Seated inside the main room of his Lincoln Park studio in Chicago, the legendary photographer explains his hesitations. "'Afraid' is not the word I'd use. It was more a reluctance of becoming old," he says.
Yet in March of this year, Skrebneski, now 85, tackled the subject head on with Ageing (Chicago's Books Press, 2014), his 15th book, which includes photos of the lensman alongside a selection of his incredibly impressive list of muses, from Orson Welles, Bette Davis and Andy Warhol to David Bowie and Iman, Audrey Hepburn, Oprah — and Estée Lauder. "She was my personal friend," Skrebneski recalls as he flips through the book's black and white photos, pausing on a snap of himself with Estée.
I don't dream; I do.
After making a name for himself in the fashion industry in the 1950s, Skrebneski signed on to be Estée Lauder's exclusive photographer in 1962, remaining with the company for 25 years and shooting all of its advertisements. To celebrate the collaboration, Skrebneski published Five Beautiful Women in 1987, which provides a curated look at his work with the brand's elite spokesmodels Phyllis Connor, Karen Harris, Karen Graham, Shaun Casey and Willow Bay.
Today, the Chicago studio where he discovered a handful of fashion's biggest supermodels remains active, and is filled with signed sketches from Skrebneski's "good pal" Hubert de Givenchy, framed selects from past issues of Italian Vogue, and more recent homages to artists like René Magritte and Cy Twombly. It's a physical archive of an astounding body of work that will be immortalized on film next Fall when a new documentary about Skrebneski's life is scheduled to debut. Here, the photographer shares a few highlights from his storied career, and weighs in on the ever-changing world of the still image.
EL: How did you meet Estée?
VS: We met through my agent. I opened my studio in 1952, but I had been working before that, too — for Esquire, Glamour, Mademoiselle and [the department store] Marshall Fields. I showed Estée this photograph of Phyllis [Connor] that I had taken for a Marshall Fields ad, but they didn't use it. She looked at it and said, "This is it." And that was the first ad we did together. It was for the evening makeup collection in 1962. Then she asked me to come to Palm Beach to shoot her, and she loved those photos too.
EL: Did Estée ever tell you what, exactly, she liked about your photos?
VS: No, but she'd call me sometimes and say, "Will you be in New York next week? I'd like to have dinner with you." And I'd fly in. We got to be very close.
I like doing things that are new, things that knock me out.
EL: How did you get into photography?
VS: I was an artist first — I used to paint and sculpt and I attended the Institute of Design in Chicago. I started developing photos I had taken of my sister Jenny, who to me was very beautiful. I had a teacher who told me that he'd never seen cropping or framing like mine before. He suggested I go to New York and take my pictures to a magazine. So I did, and I started working right away.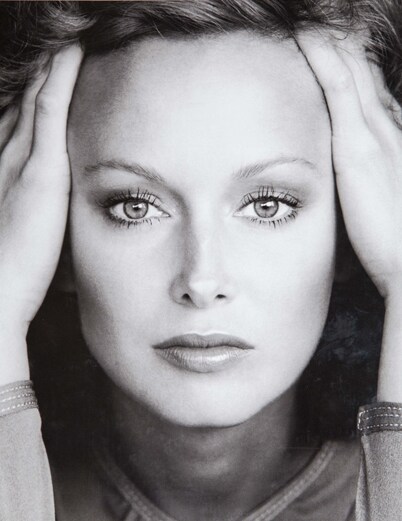 EL: What drives you?
VS: I'm an artist from the beginning so I'm always thinking, "I want to change this, I want to change that" — and there's always something to change. I like doing things that are new, things that knock me out.
EL: You've shot with so many unbelievable people. Do you have one, all-time favorite on-set memory?
VS: The next one.
EL: Do you have any dream projects, or dream collaborators you'd like to work on a project with?
VS: I don't dream; I do. Otherwise, I'll procrastinate.