It's not often that we get entrée to a French fashion editor's apartment, much less a glimpse at her beauty routine. But when Claire Thomson-Jonville, editor-in-chief of Self Service Magazine—and all-around style inspiration—shared her love of Estée Lauder products (she counts Advanced Night Repair and the New Dimension Shape + Sculpt Face Kit among her favorites) and agreed to let us follow her around Paris for a day, we couldn't say non.
Thomson-Jonville is actually a transplant to Paris, originally from Scotland and, later, England, but has managed to embody the effortlessly chic, French cool-girl vibe as authentically as any native Parisian. "I moved to Paris for the creative culture," she explains. "Self Service was always a magazine I loved and respected… I feel very fortunate to have found my 'creative family' through the magazine. Being based in Paris is part of the closeness we have."
As for her own family, with a young baby at home, free time for this chic working mom is at a premium. "But I wouldn't have it any other way!" she exclaims. "I can do my makeup in 10 minutes—it is possible. I take time to do my skin and brows well." (She reveals she achieves this with the Double Wear Brow Lift Duo.) Here, check out everything Thomson-Jonville makes time for in her nonstop life. You're going to want to take notes and plan your own trip tout de suite.
Astier De Villate
I love this store on the rue de Tournon. It's so inspiring. Beautiful ceramic homeware; everything is white. The pieces are so collectible—there's something imperfect and unique about each piece. A great place to buy gifts. I can always find something here.
16 rue de Tournon, Paris, France; +33 1 42 03 43 90
Le Bristol
I enjoy the discretion and old-school charm of Le Bristol. It's right next to my apartment, so I often schedule meetings here.
112 rue du Faubourg Saint-Honoré, Paris, France; +33 1 53 43 43 00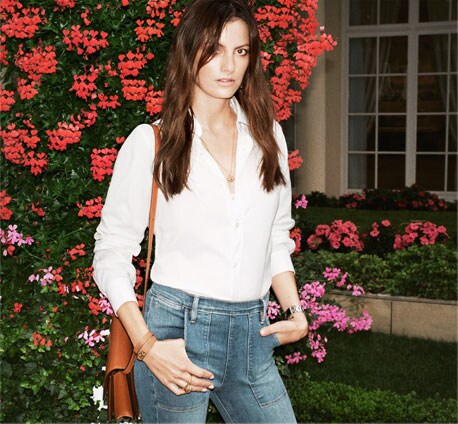 Delphine Courteille
I've been going to Delphine Courteille's studio in Paris for years. She knows me so well, I trust her with my cut and color. I love the courtyard space and taking a quiet tea and catching up on gossip.
34 rue du Mont Thabor, Paris, France; +33 1 47 03 35 35
L'Espace Bikram
I have been obsessed with yoga for about 10 years. I mainly practice Bikram yoga, which I find gives me a workout and has made my body stronger and leaner. I also like to meditate and follow other wider mixes of yoga practice with my private teacher, Gabrielle Richard. We recently went on a yoga retreat in Essaouira [in Morocco], and I'm now scheduling short retreats into my schedule each season. It keeps me focused knowing I have some 'me' time planned when things are really hectic.
5-7 rue Meissonier, Paris, France; +33 1 78 766 767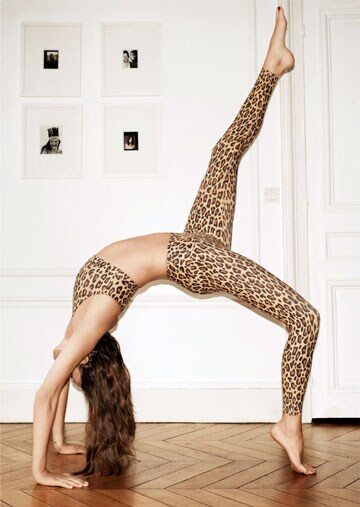 Wild & The Moon
I love this organic vegan juice bar in the Marais. It has a more American, laid-back feel than other organic spots in Paris. I love the juices and often pick up lunch to eat at the office, since it's right next to the Self Service offices. I'll get the 'Better than Botox' juice and a soba or quinoa salad.
55 rue Charlot, Paris, France; +33 09 51 80 22 33
Marché Président Wilson
It's a farmer's market, and the selection is so great. I go every Saturday when I'm in Paris, always to buy organic local fruit and vegetables, cheese and fish. I take a raffia basket and my baby in her stroller. It's my favorite way to unwind on the weekend.
Avenue du Président Wilson, Paris, France; +33 1 45 11 71 11