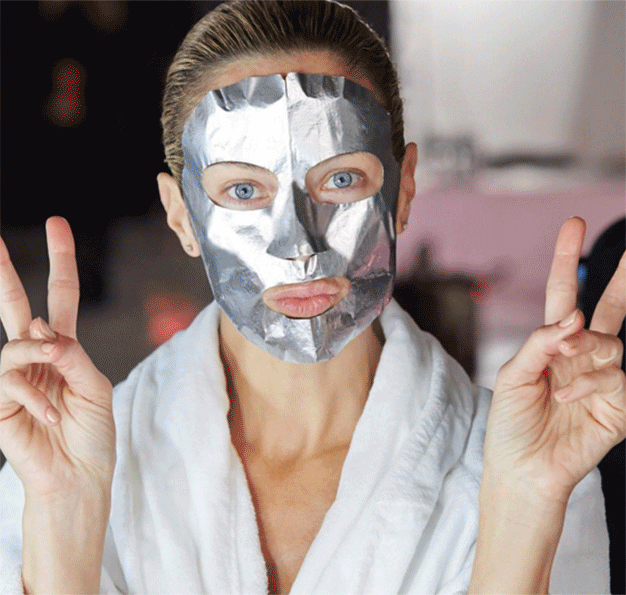 Face masks are more than a skin savior. They can also help soften your mood—while softening your skin, to boot. So, in the spirit of self-help, the editors at Estée Stories tested out a whole variety of sheets, balms and cremes to find a fix for whatever you're feeling, regardless of the swings (skin-related or otherwise) we all go through. Consider the following results your prescription for a happier, healthier-looking complexion.
The feeling:
Working up the energy to party
The fix:
Advanced Night Repair Concentrated Recovery PowerFoil Mask
This shiny silver sheet mask is the skincare equivalent of a disco nap before a big night out. And that foil is more than just cool to stare at—it increases the absorption of the mask's ultra-moisturizing and soothing serum, so it works fast to rehab your skin. Grab a glass of champagne, relax with the mask on for ten minutes, remove, and rub in all the remaining goodness to face the night looking fresh and dewy.
The feeling:
Like you need to go on a juice cleanse
The fix:
Nutritious Radiant Vitality 2-Step Treatment
If you've overindulged, reset with this deeply purifying two-step kit. Half the jar is filled with a smooth clay mask that extracts dirt and oil. The other half contains a luxuriously cooling gel featuring a virtual produce department of powerful age-fighting anti-oxidants, including pomegranate, blueberry, cranberry, and goji berry. Applying the gel after the clay helps infuse all that nourishment into your freshly detoxed skin.
The feeling:
Totally and utterly out of control
The fix:
Clear Difference Purifying Exfoliating Mask
When life serves you lemons, it tends to offer up a side dish of blemishes. That's where this hardcore anti-breakout concoction comes in. It's got everything you need to clear clogged pores, yet doesn't dry out your skin: Salicylic acid, the gold standard of blemish busters; white clay to vacuum dirt and debris; glucosamine, which increases cell turnover to get rid of dead, dulling cells; and a marine extract that laps up excess oil.
The feeling:
In desperate need of a vacation
The fix:
Revitalizing Supreme Global Anti-Aging Mask
You know the signs: skin appears dull, dried out, somehow it even looks exhausted—so reach for this creamy five-minute mask to give yourself a mini getaway. Brightening sea lavender flower extract (which sounds like just the type of exotic bloom you'd find on vacation), ultra-moisturizing hyaluronic acid, and sunflower and cucumber extracts help revitalize, moisturize and strengthen skin's naturally protective lipid barrier.