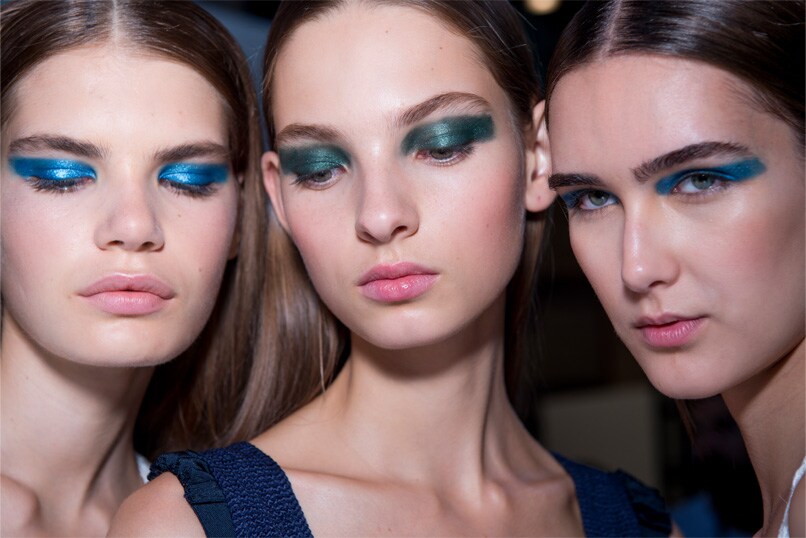 Victoria Beckham the woman is known for embodying the ultimate in chic. Her fashion line represents the same sophistication. And when it came to the beauty look for her Spring/Summer 2017 fashion show in New York City, Beckham did not disappoint. She seized the opportunity to unveil her new Victoria Beckham Estée Lauder makeup collection, showcasing bold swipes of color across her models' eyes, complemented by fresh, modern, ethereally glowing skin.
"The starting point for my new makeup collection was beautiful skin," Beckham explained about her inspiration for the look. "The makeup really reflects the assured free spirit of the Ready to Wear this season, so the use of color is quite carefree and applied in bold strokes across the eyes." Indeed, each model represented one of three beauty looks. Some carried through the theme of beautiful skin with simple, shimmering nude sculpted eyes, while others wore flashes of geometric color in either metallic blue or green, painted free form across the lids.
Inspired? Here's how to recreate the full look for yourself, starting from the clean, fresh skin to—if you're feeling brave—the bold clash of color. Just keep in mind Beckham's vision: "Overall, the look doesn't feel too perfect or considered," she says. In this case, elegance lies in the imperfect.